Welcome to Plymouth Public Schools!
Our enrollment process begins online.

Only Legal Guardians should create an Aspen account and complete an online registration for their children.

Please review and prepare the necessary documentation for enrollment as outlined on the Grades K-12 Enrollment info below

Once you have all of the necessary enrollment forms (most can be completed electronically and saved to your computer for upload to your online registration), please review and follow these instructions for completing your online registration.

If you are not sure to which school you should enroll your child, please enter your street name on the School Assignment by Street info

If you need any assistance with the online registration, please contact the school to which you are enrolling.

Please note, the online registration application is not mobile friendly. You will NOT be able to create a new account on a mobile device. Please complete the registration on a desktop PC or laptop.
PLEASE NOTE - ELEMENTARY (K-5) SUMMER ENROLLMENTS: Elementary school buildings are closed for the summer. If you are registering a Kindergarten to Grade 5 student for enrollment in the Fall, please complete the online registration and your child's new elementary school will review your registration and reach out to you when they are back in the office mid-August.
Begin Online Student Registration
If you are interested in our integrated preschool program, please review the application process or contact the Plymouth Early Childhood Center at 508-830-4450.
The Town of Plymouth provides district-wide Full-Day Kindergarten
Children must be 5 years of age on or before September 1, 2023

Prospective students are not required to attend registration. They will be invited to attend a Kindergarten screening at a later date
If you need any assistance with the registration process, please contact the school to which you are registering your child.
Translation services for Non-English speaking parents are available:
Se precisar de ajuda com a tradução, entre em contato com Mari Costa em 508-224-5076 ou e-mail mcosta@plymouth.k12.ma.us
Si necesita ayuda con la traducción, comuníquese con Mari Costa al 508-224-5076 o envíe un e-mail para mcosta@plymouth.k12.ma.us
School Assignment by Street
Click the button below to view our new School Assignment by Street page.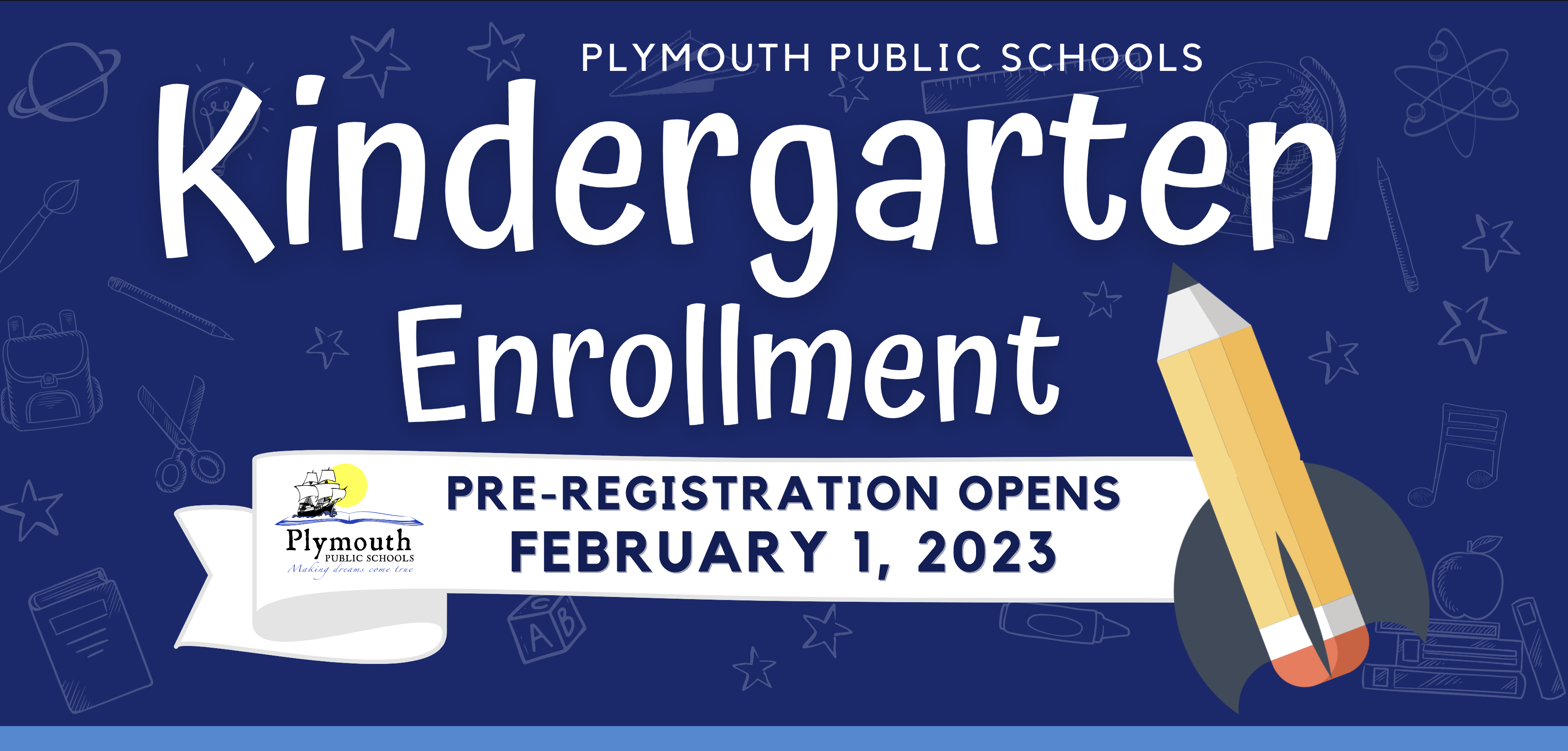 Please Note - Current PECC Students:
Current Plymouth Early Childhood Center (PECC) students do NOT need to pre-register online in Aspen for Kindergarten. For current PECC students who will be attending Kindergarten with us next year, please complete the following three forms and either print them and bring them in to PECC or email them to the PECC Main Office Secretary, ktice@plymouth.k12.ma.us. Your child's new school for Kindergarten will reach out to you to set up an appointment for a screening in the Spring.
Important Registration Information
In Town Out-of-District Requests
REVISED POLICY - EFFECTIVE June 14, 2021
Policy 9.20 - In-Town-Out-of-District School Placement (REVISED 9-14-2021)
Plymouth Public Schools will no longer be accepting new "in-town/out-of-district" applications unless a student or his/her family meets one or more of the following criteria:
Students/ families move out of their districted school boundary but remain within the town of Plymouth. Students may have the ability to finish the school year at their current school.

When parents are divorced and live in different districted areas of Plymouth,

Homelessness (see policy 9.3).

Students of Plymouth Public Schools staff, when the staff member resides in Plymouth.

Students who have an older sibling who has previously participated and has been accepted to an "out-of-district school.

Out of District Students who are transitioning from Elementary to Middle School can continue to apply for "Out-of-District" placement, as this is not considered a new application.

For students who meet the above criteria, parents are required to complete an in-district transfer form no later than May 1 when it is practicable to do so.

All applications will be considered in the order in which they are received.

Transportation is the responsibility of the parent(s)/guardian(s) unless the student is deemed "homeless" under the McKinney-Vento law (see policy 9.3).

Applications must be submitted annually and are subject to space and staffing at the receiving school.

Applications must be signed by the sending and receiving principals and the Assistant Superintendent for Administration and Instruction.
Transfer Requests for High School Students
High school students are required to attend their district school unless they are officially accepted into a career and vocational-technical education program and/or recommended by a Special Education Team. Students accepted into a career and vocational-technical education program, which resides in both high schools, must attend their district school.